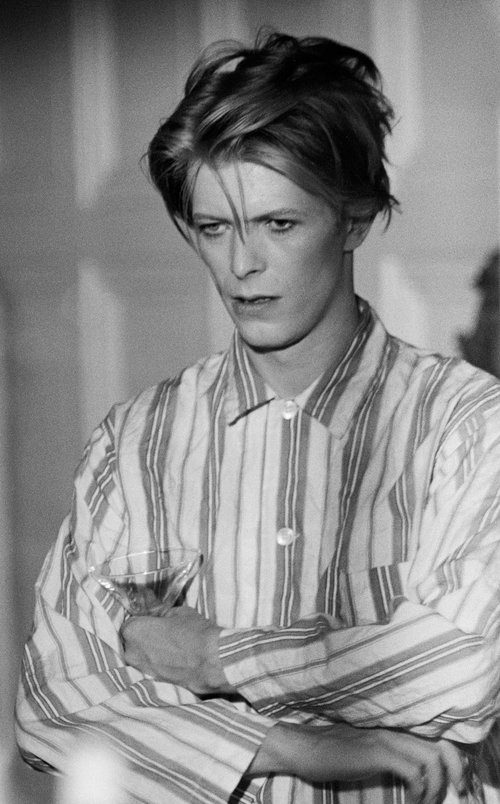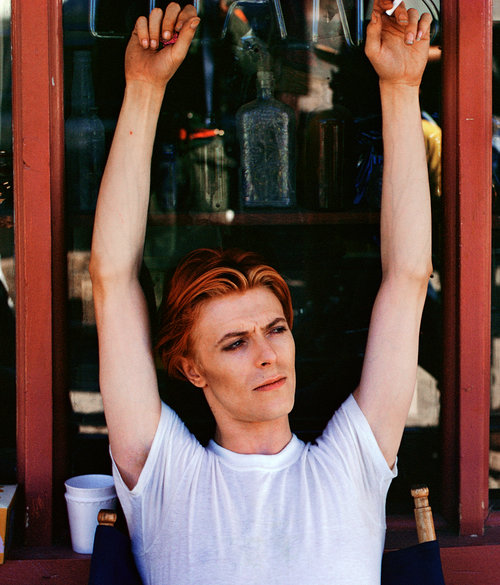 It's 1973 and your phone is ringing. You pick up and it's David Bowie (at a notable peak of his creative fervor and otherworldly beauty) inviting you to join The Spiders From Mars and go on tour with him. He explains to you that he's flight-phobic so you'll be travelling by sea in fine style (a brilliant detail, very Bowie-esque in its glamour and perversity) from London to New York, and from Los Angeles to Japan. And then from Japan to Russia, in the close-quarters of the Trans-Siberian Express to Moscow, on to Paris and then Rome. Once you imagine the fun is drawing to a close, Bowie asks you to stay on with him as a Diamond Dog and continue the adventure for a few more years.
This is not an elaborate fantasy, it's what actually happened to Geoff McCormack, an old school friend of Bowie's who was working selling advertising space for a London construction paper when he received the astonishing invitation. Thankfully, McCormack – now a writer, producer and photographer – had his camera with him to document 'the party that lasted three years'.
In the first solo exhibition of these special pictures,'David Bowie, The Geoff MacCormack Collection' is showing at the Francesca Maffeo Gallery (showing until 14th April) alongside The Long Way Home, a cine film shot by Bowie capturing the friends' journey from the docks in Japan, their time on the Trans-Siberian Express and their arrival in Moscow for the May Day Parade.
Some of MacCormack's images are so familiar, they've been absorbed so thoroughly into the cultural consciousness it's easy to forget they were ever actually taken by anyone. Seeing these pictures again, re-framed by MacCormack's narrative, allows us the opportunity to revisit these iconic images as if for the first time. Other, less recognisable, pictures offer us a glimpse of that elusive creature, a relaxed, unguarded Bowie.
Below, the photographer guides us through some of the stories behind his 'intimate photographs of two friends, travelling side-by-side'.
ON THE TRANS SIBERIAN EXPRESS, 1973
"David sleeping off a long night of boozing somewhere in Siberia in 1973. We drank cheap Riesling and beer (Peeva) with a bunch of soldiers we'd met the night before. They were friendly and inquisitive as to what life was like in the West. We asked them what they did in the army: they said they were in the construction unit. You can just make out the bleak Siberian landscape through the window."
IN FRONT OF THE TRANS SIBERIAN EXPRESS
"Heading back to London from Japan the long way, I'd only just acquired a Nikkormat camera which Japanese photographer Masayoshi Sukita got me (trade price); the attraction being its ease of use for a novice. It was my first decent camera. Not knowing the camera, I at least pride myself on getting the composition right. The other thing I love about this shot is that, although David clearly strikes a pose, the image is still unguarded and natural. David reciprocated by taking one of me in exactly the same spot. Believe me, mine's better."
THE MAN WHO FELL TO EARTH, 1975
"I love this completely unguarded shot of David. This shot was taken at the end of a particularly long and gruelling day of interior shooting under hot lights. I took this in-between the camera's rolling, with only one light source and no flash. I like the combination of Bowie's hair tone and the orange glow given off by the lamp."
FENTON LAKE, NEW MEXICO
"When I was (quite rightly) dropped from my role as Bowie body double (in The Man Who Fell To Earth) for, well, looking completely and utterly different to him, it turned out to be a veiled blessing. I took advantage of the free time and the sublime New Mexico light and picked up my Nikon. This image of David is one of my favourites. I particularly like it for its raw honesty."
HAMMERSMITH ODEON, LONDON, 1973
"David in Ziggy makeup in 1973. This shot was taken at the Hammersmith Odeon before the last shows of the tour. David was reading a review, and I sneaked this shot with a zoom lens which I already had on the Nikon so as not to disturb the quiet moment. To this day, I find it remarkable how serene he is only moments before showtime."
THE MAN WHO FELL TO EARTH, 1975
"David enjoying a joke with the film crew, who were (mostly) London boys and always up for a laugh. A little bit of home in the desert!"
SIBERIA, RUSSIA 1973
"This shot was taken early on, inside the Trans Siberian Express. Our dress code rapidly fell away after about two days into the long journey. The jacket David is wearing is a Freddie Buretti original (David's personal tailor). With his bright red hair and unconventional clothing, Bowie didn't exactly blend in with austere surroundings of Siberia/Russia."
IN FRONT OF THE TRANS SIBERIAN
"Looking out of the 'Trans Siberian Express' on a station stop somewhere on route, we travelled soft class: believe me, you wouldn't have wanted to go hard class! Whenever we stopped, people would appear with trays of crude merchandise; David's favourite purchase was yogurt."